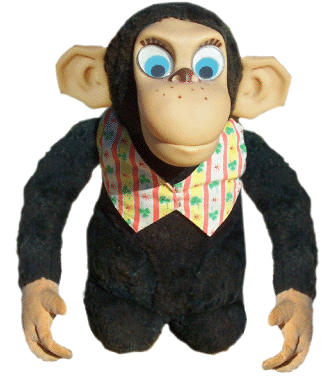 The thought of an Irish Monkey may seem silly, but Chester O'Chimp, originally produced by Mattel in 1964 is just that. This talking plush toy with an Irish accent is now a valued collectors item, and very hard to come by.
Chester O'Chimp said 11 different phrases, was 14" tall, and had posable wire hands. The neatest feature was his vinyl mouth which moved while he talked. He also sported a snappy vest with a spiffy shamrock print.
Originally these vintage Mattel creatures were part of a line of plush animals called "Animal Yackers" which Mattel produced in the early 1960's. Chester was the third yacker, produced in 1964. He had a stuffed plush body with a vinyl mouth, face and ears. He also had big googly eyes and long painted eyelashes.
Follow the Bananas & Shamrocks if you are looking to buy a Chester, sell one, or just want to learn more about this wonderful, nostalgic toy.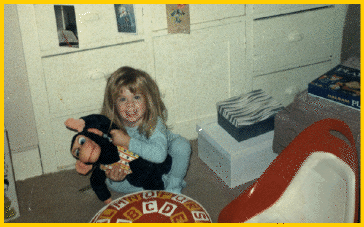 Christmas 1964: Linda gets a new best friend...Chester O'Chimp!